TREE OF LIFE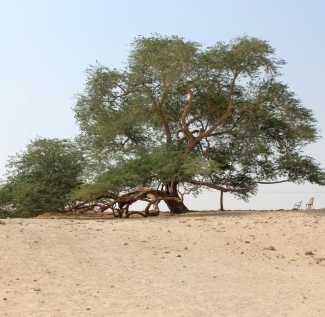 The Tree of Life (Shajarat-al-Hayat) in Bahrain is approximately 400 year-old, 9.75 m (32 ft) high Prosopis cineraria[1] tree located 2 km (1.2 mi) from Jebel Dukhan. The tree stands on top of a 7.6 m (25 ft) high sandy tell that formed around a 500-year-old fortress.
The tree is a local tourist attraction, as it is the only major tree growing in the area. The tree is visited by approximately 50,000 tourists every year and the tree often is damaged by graffiti carvings. It is also believed to be the site for cults practising ancient rites. Since October 2010, archaeologists have unearthed pottery and other artefacts in the vicinity of the tree, some of which may date back to the Dilmun civilisation.[citation needed]
Trees and shrubs of Prosopis genus are extremely well adapted to arid environments with one of the deepest known root systems.